Short trips from Usuki: Beppu daytrip
For those staying in Usuki for an extended period, there are a number of great options for short forays to other cities and even other prefectures. In this article I will describe a day-trip I recently did to Beppu City with my son. You can find details regarding transport, admission fees and such at the end of the article.
The drive from central Usuki to Beppu took us just under an hour using the Higashi Kyushu Expressway. We knew we were almost there when we started noticing the smell of sulfur which emanates from the city. After exiting at the Beppu IC it was a short, 5-minute drive to our first destination, Umi Jigoku (Ocean Hell).
There are seven unique Jigoku (Hells) in Beppu which are dramatic forms of onsen, open for viewing rather than bathing. We chose two for our trip, Umi (Ocean) and Chi-no-ike (Blood pond). Many visitors elect to visit all seven and there are discounted tickets for the full set. We saw some who were clearly doing this on foot and also spotted a couple of the buses running Beppu 7 Hells tours.
Upon entering we were greeted by billowing clouds of steam and that unmistakable smell of sulfur. Moving in for a closer look we were quite impressed by the vibrant colour of the bubbling water, a dazzling turquoise.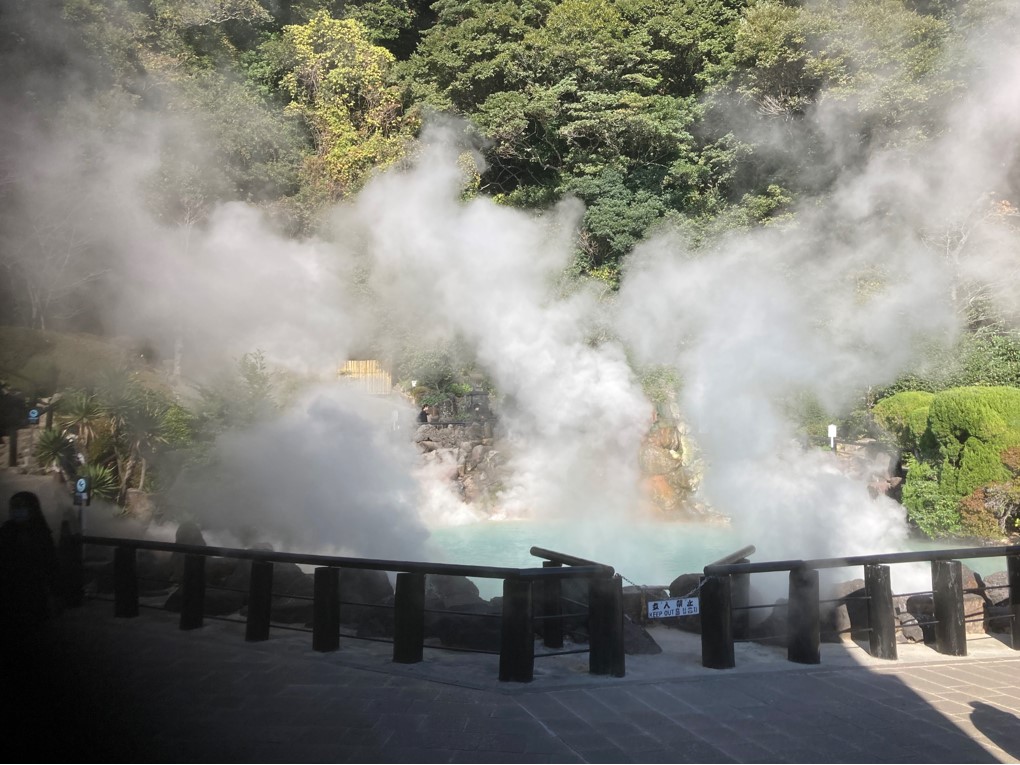 Nearby, in striking contrast to the blue waters are a series of bright red torii gates leading up to a shrine. While this is a common sight around the country, it was a first for me in one regard. Before approaching the shrine, we first went to the chōzu-ya, the small pavilion where you wash your hands and mouth to purify yourself. It was here I had a pleasant surprise. The water was warm! Fed by a natural hot-spring, on this cool, early winter's morning this was very welcome.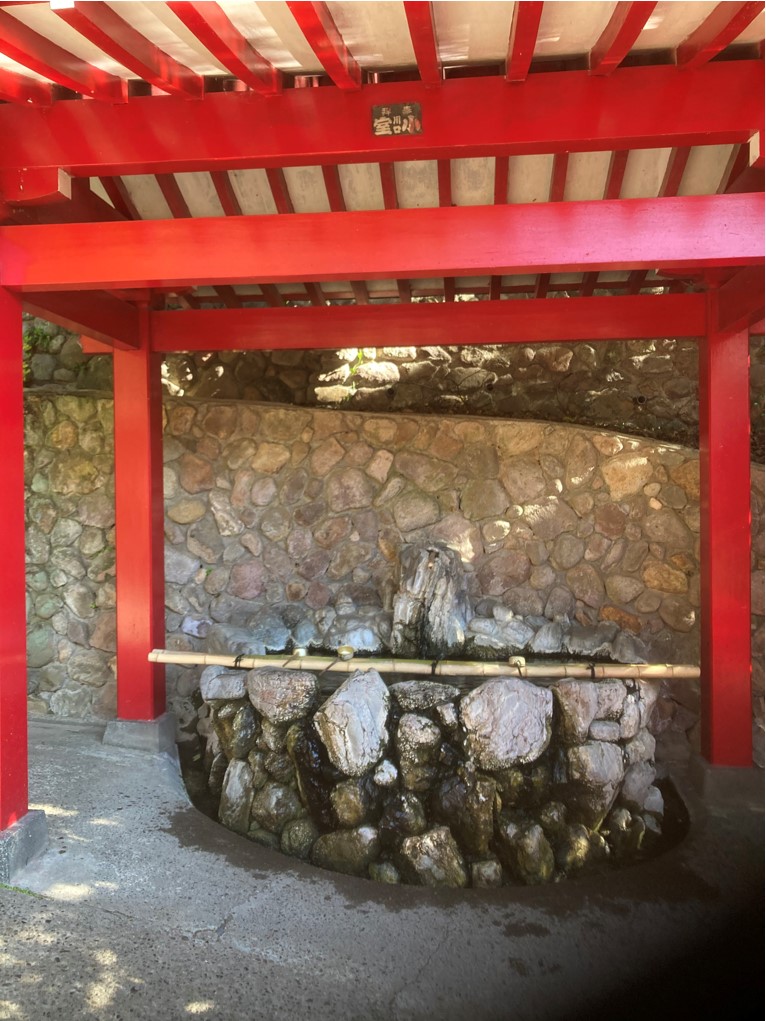 Continuing the short circuit around the pool we were able to look back down to the pool from an elevated position, a good spot for more photos.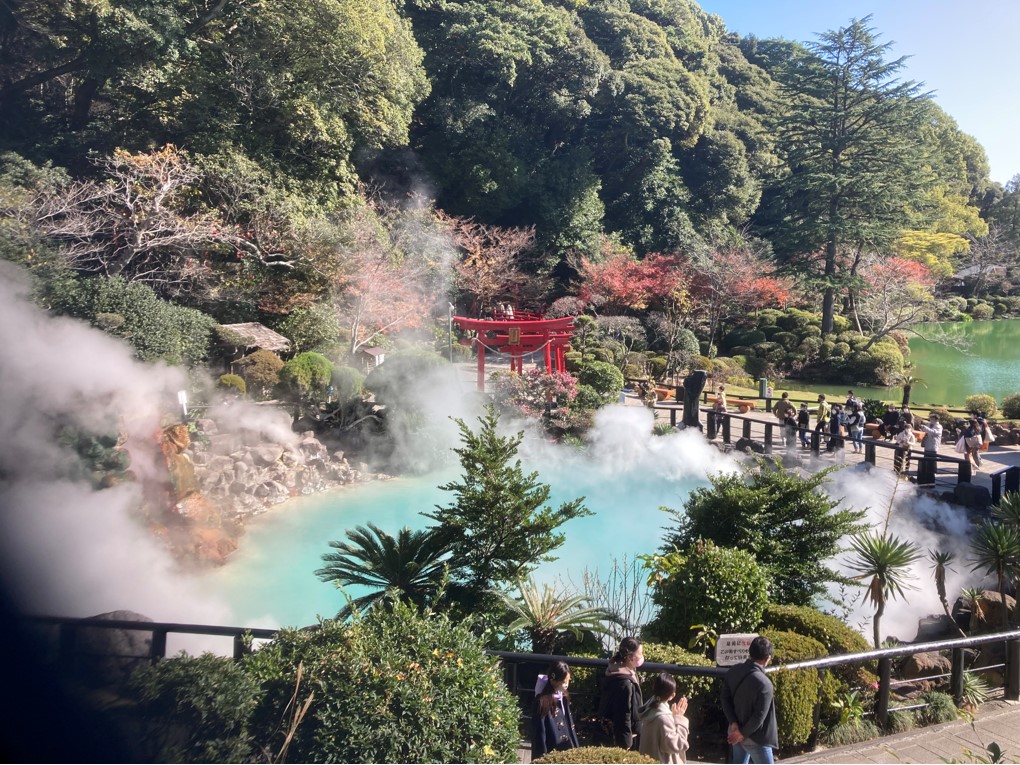 We made our way back to the car through the gift shop. Here you will find a selection of locally produced goods such as woven bamboo handbags along with a plethora of Oni (Demon) themed gifts. These are Beppu's 'hells' after all. I quite liked these cookies, a mix of demonic and the always popular kawaii (cute).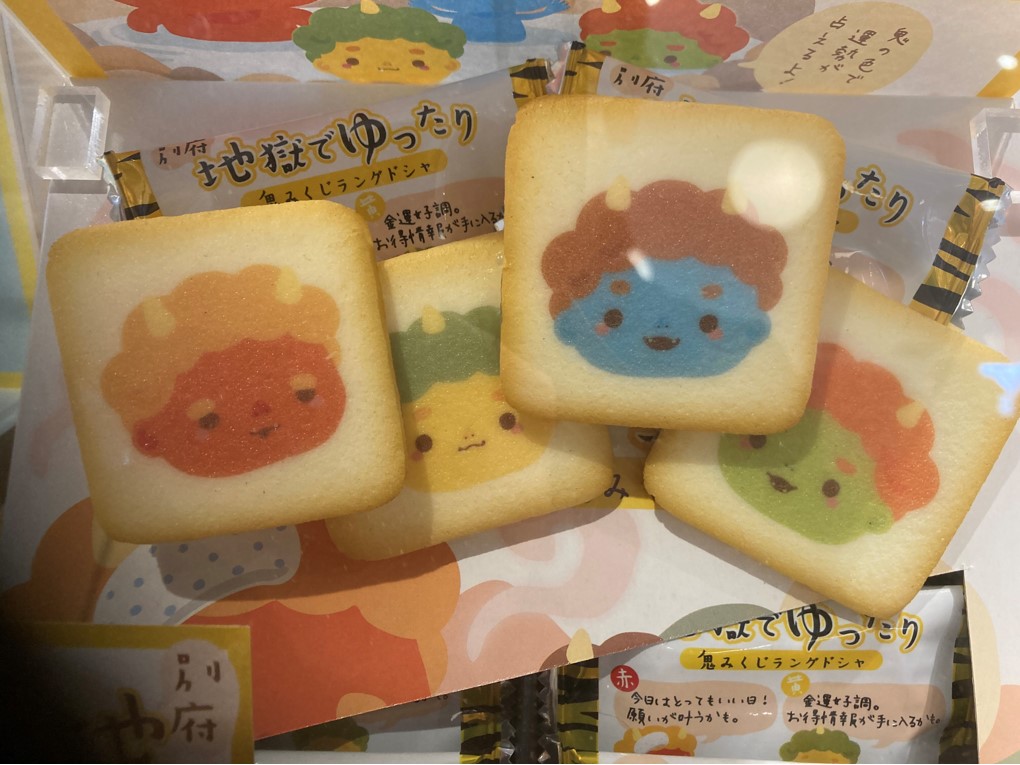 For those who are travelling on foot, another four of the 'hells' are located within easy walking distance of Umi Jigoku. For us, it was back in the car and a short, 10-minute drive to Chi-no-ike Jigoku. The Blood Pond Hell! We were immediately greeted by more Oni.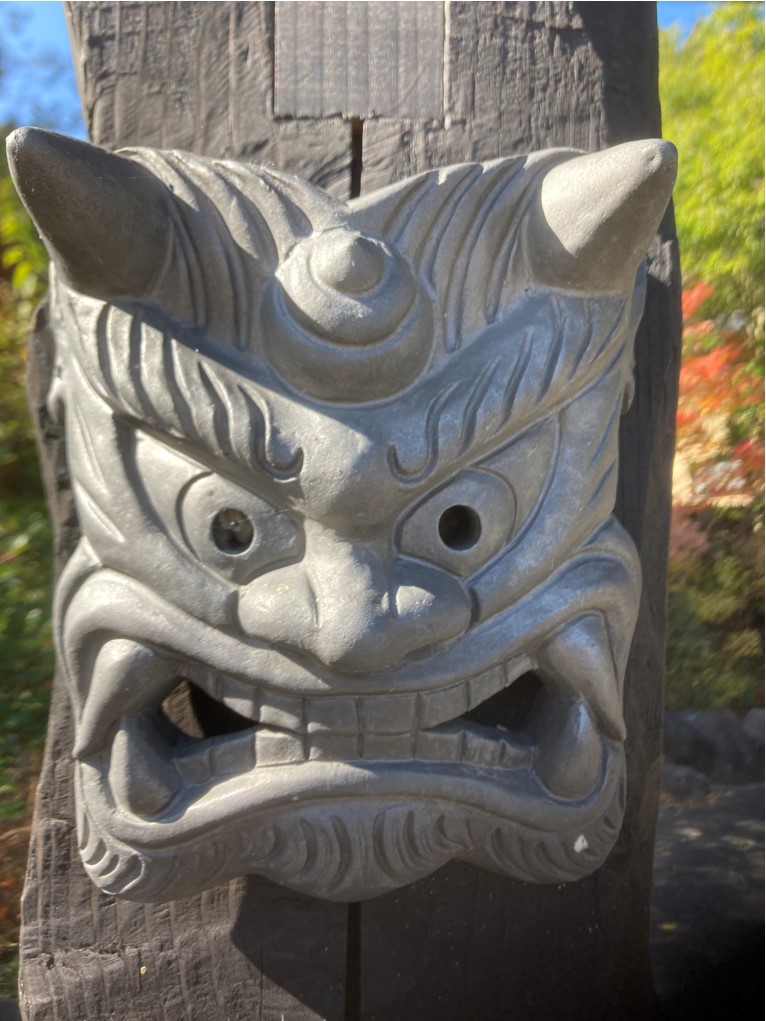 It will probably come as no surprise that Chi-no-ike Jigoku owes its name to the red colour of the spring's waters. This, we learned, is a result of the high levels of iron oxide and magnesium oxide. In days gone by, these waters were used by locals to treat a range of skin problems as well as to dye fabric. You can still purchase a number of health and beauty products made from the spring's waters.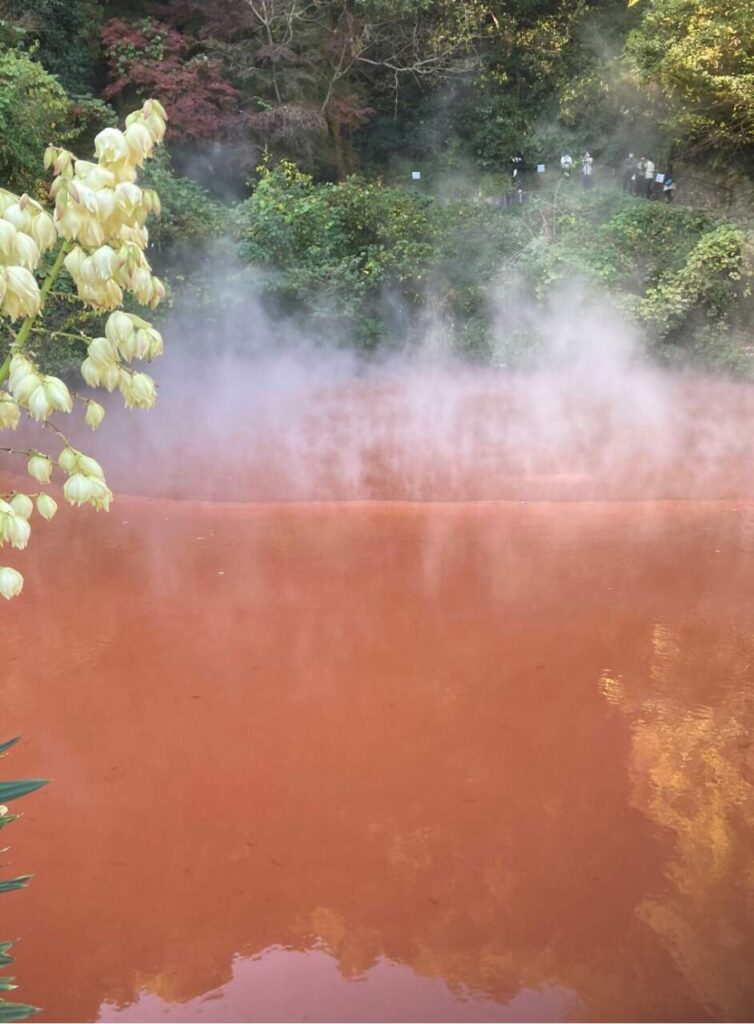 By this time we were starting to feel hungry so we decided to go for lunch. In order to maintain the theme of our trip, we headed to Jigokumushi Kōbō Kannawa. At this restaurant-come-public kitchen you are able to purchase trays of uncooked food and steam it yourself in one of the ovens built over a thermal vent.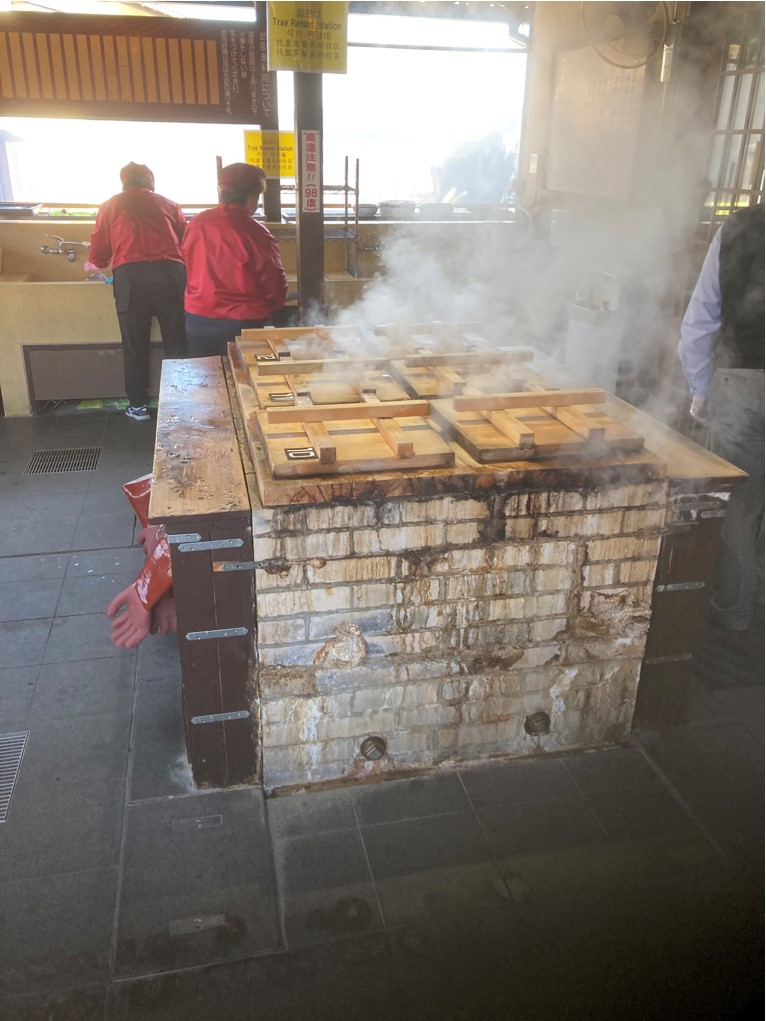 The staff will assist you in placing your dishes in one of the ovens and give you a timer so you know when your food is done. The hot spring steam cooks most of the dishes in about 15-20 minutes and they are ready to enjoy. I particularly enjoyed the mixed dumplings, though there is quite a range to choose from. A wonderfully unique, eco-friendly dining experience.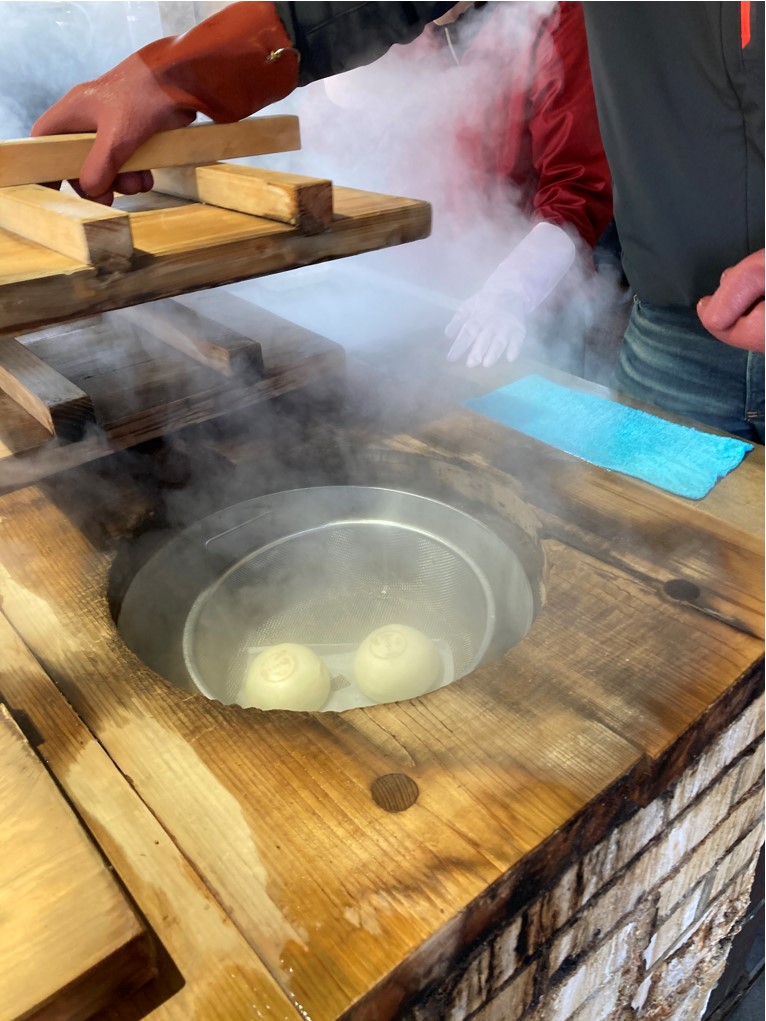 Our appetites well sated, we moved on to the next stop. Deviating from our onsen theme, we headed to the Takezaikudensankaikan, the Beppu City Traditional Bamboo Crafts Center. Along with being famed for its onsen, Beppu has a long history of producing quality, woven bamboo products. So long that it is even mentioned in the Nihon Shoki, one of the oldest texts of classical Japanese history!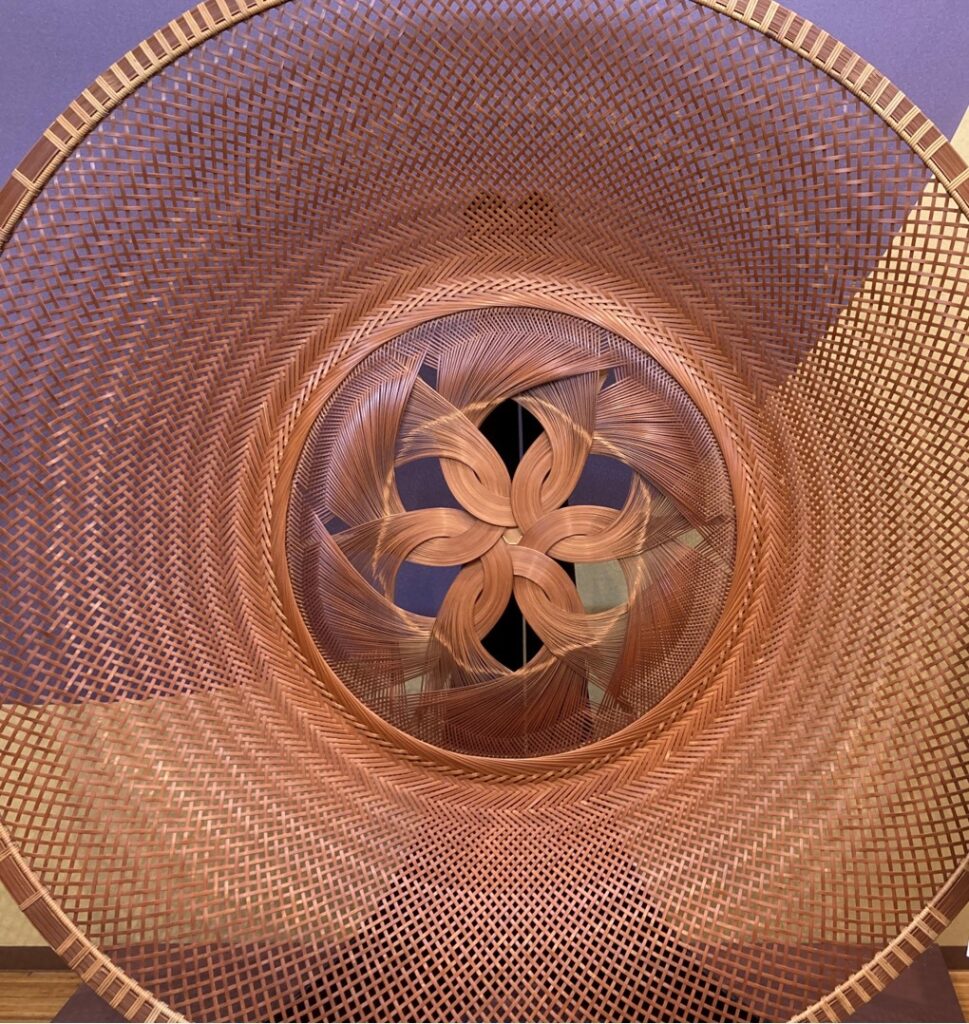 The displays at the center include historical and technical information about bamboo craft along with a range of artworks by master craftspeople. The beautiful intricacy of these works was truly amazing. On the day we visited we were fortunate enough to peek in on a weaving class upstairs. Students from a local bamboo weaving school were there for instruction by an artist, producing some really interesting, organic pieces. There are also short workshops to join where you can make your own piece to take as a memento.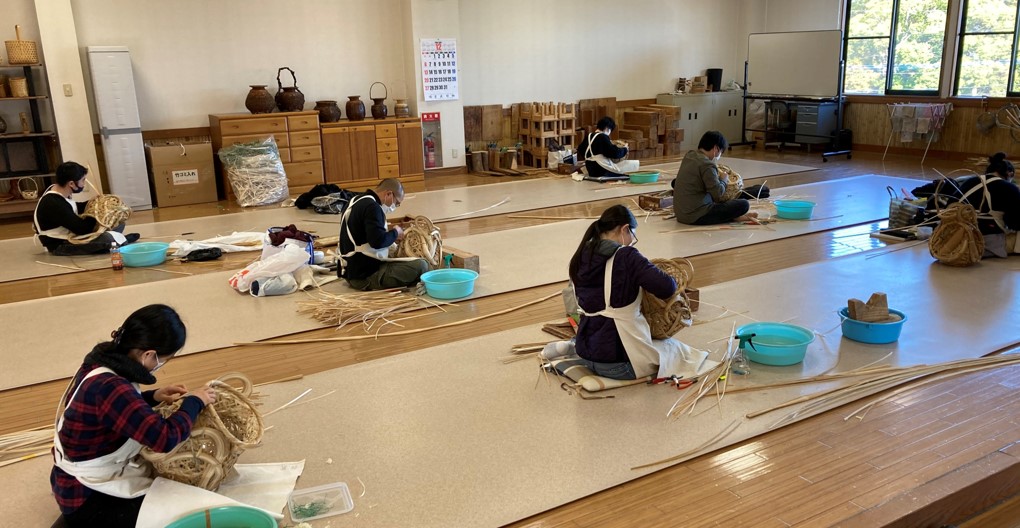 Once again, we hopped in the car and headed for our final stop before the journey home. The obvious missing ingredient in our Beppu daytrip, a relaxing soak in an onsen. But how to choose from the myriad options? Well, I was fortunate enough to have been working recently with a young man whose grandparents run an onsen in Beppu. For me, the decision was made.
It took us about ten minutes to arrive at いちのいで会館 (Ichinoide Kaikan). Having been to quite a few onsen in different parts of Japan, the relative simplicity of Ichinoide was a pleasant change. There are two separate areas for men and women, both open-air with fantastic views of the city below and the bay beyond. Unlike larger indoor hot springs, there is no washing area. You simply get undressed in the changeroom and rinse of using the hot spring water before getting in to soak and enjoy the view.
Reluctantly, it was time to dry off and say farewell to Beppu. It had been a brilliant day and we had done so much, without feeling like we had to rush. We will be sure to visit again to discover more of what the 'onsen capital' has to offer.
We traveled by car, the easiest mode of transport for the journey which also allows for greater flexibility with your itinerary. That said, you could still do the trip using trains to-and-fro and buses or taxis for getting around the city. Below is some information regarding public transport to the places we visited, although most of what you will need is readily available in apps like Google Maps.
Getting there
By car: The simplest way to get there is to take the Higashi Kyushu Expressway. Get on at Usuki IC (臼杵IC), follow the signs for Beppu and get off at Beppu IC (別府IC). The toll is 1,320 JPY one-way for a standard vehicle.
By train: Local and Sonic-Nichirin (rapid) trains depart from Usuki Station about once each per hour. The local costs 950 JPY and takes about 1hr 10min to get to Beppu Station. If you take the Sonic-Nichirin you will need to transfer to a local train (Nippou Line) at Oita. The trip will take about 55min and costs 2,110 JPY.
Hours and Admission
(As at December 2020)
Beppu Jigoku (Hells)
Open daily from 8:00 to 17:00
Single entry to one 'Hell': Adult 400 JPY Child (up to Jr. High) 200 JPY
All 7 'Hells' pass: Adult 2,000 JPY Child (up to Jr. High) 1,000 JPY
*Available at any of the 7 hells.
Beppu City Traditional Bamboo Crafts Center
Open from 8:30 to 17:00.
Closed Mondays (Where Monday is a public holiday, closed Tuesday)
Closed on public holidays and Dec 29 – Jan 3.
Entry fee: Adult 390 JPY  Child (up to Jr. High) 130 JPY
Workshops:

60min Woven bowl: 2,000 JPY pp. (Jr. High and older)
40min Bamboo bell: 500 JPY pp. (Primary School and older)
Jigokumushi Kobo
Open from 9:00 to 20:00 (last orders 19:00)
Closed 3rd Wednesday of every month. (following day where Wednesday is a holiday)
Hire of steam oven:

Small 10 minutes 200 JPY, 20 minutes 400 JPY
Large 10 minutes 300 JPY, 20 minutes 600 JPY
(See menu for cooking times for each dish)

The menu ranges from "Eggs steamed in hell" for 150 JPY up to
"Red King Crab Deluxe" for 3,900 JPY.
Ichinoide Kaikan
Open weekdays from 11:00 to 17:00
Weekends and holidays from 10:00 to 17:00 (last orders 16:00)
Onsen bath entry plus meal: 1,500 JPY
pp. ****Due to COVID 19 at the time of writing this article the restaurant is closed and entry to the onsen is 700 JPY pp.
A tour of "Usuki" from town to town