Short trips from Usuki: Takachiho overnight.
Living in Usuki has given me the opportunity to travel around and visit many of the nearby attractions. Here, I would like to recount a recent overnight trip I made to Takachiho, just across the border in Miyazaki Prefecture. If you are staying in Usuki, it is quite manageable to visit Takachiho and return in a day; however, staying the night makes for a more relaxing time. Plus, I've got a great little place for you to stay to add to the experience.
If you are relying on public transport, you will definitely want to stay the night. The trip from Usuki Station will take you about 4 hours. Take the Sonic-Nichirin to Nobeoka then transfer to bus 71 or 72 and get off at Miyakoh Bus Center. The total fare will be a little over 3,000 JPY.
Personally, I would recommend hiring a car for this trip. Again, you can go via Nobeoka using the toll road and arrive in 2 hours. I chose to go inland, avoiding the tolls and only adding about 10 minutes to the journey. What's more, I found a couple of hidden gems along the way where you can stop and stretch your legs.
I first drove through Inukai, onto the Naka-Kyushu Expressway (中九州横断道路) which took me to Taketa. From Taketa I went via Bungo-Ogi and along some lovely country roads through to Takachiho. About fifteen minutes out of Bungo-Ogi, I came across a most unexpected sight. There, seemingly in the middle of nowhere, stood the most elaborate treehouse I have ever seen. The sign read Takamori Treehouse I had to stop and investigate.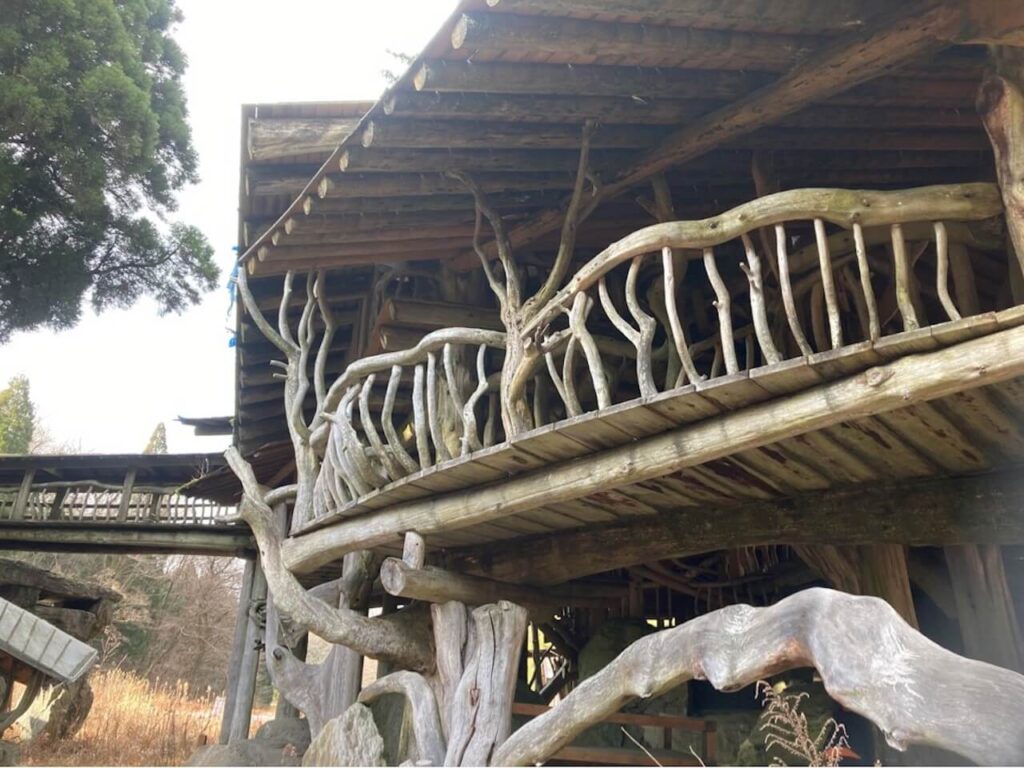 A sprawling maze of huts, ladders and covered walkways wove between massive, live cedars which would have been imposing on their own. Someone had obviously gone to great pains to create this wonder, incorporating whole tree trunks and delicate, curved balconies. On closer inspection I could see that the years and the elements were taking their toll. Parts of the structure were rotting away and I have to say it is mostly unsafe to climb. Nevertheless, it is still an impressive sight to see.
On arriving in Takachiho, I made straight for one of the city's most iconic landmarks, the Takachiho Gorge. Found on the south-western edge of town, the gorge is a long narrow strip of the Gokase River with walls of dramatic rock rising up on either side. There are a number of walking trails around the area, including a bridge which looks down into the gorge, but I wanted to get a closer look so I made my way to the boat hire ticket office.
Having bought my ticket, I walked down to the small dock near the mouth of the gorge. I was fitted with a simple floatation device and ushered into my row-boat by the friendly staff. I wasn't alone as I paddled out into the river. A few other visitors were laughing at each other as they tried to make their boat go in a straight line, and a small flock of ducks swam nearby, seemingly interested in the goings-on.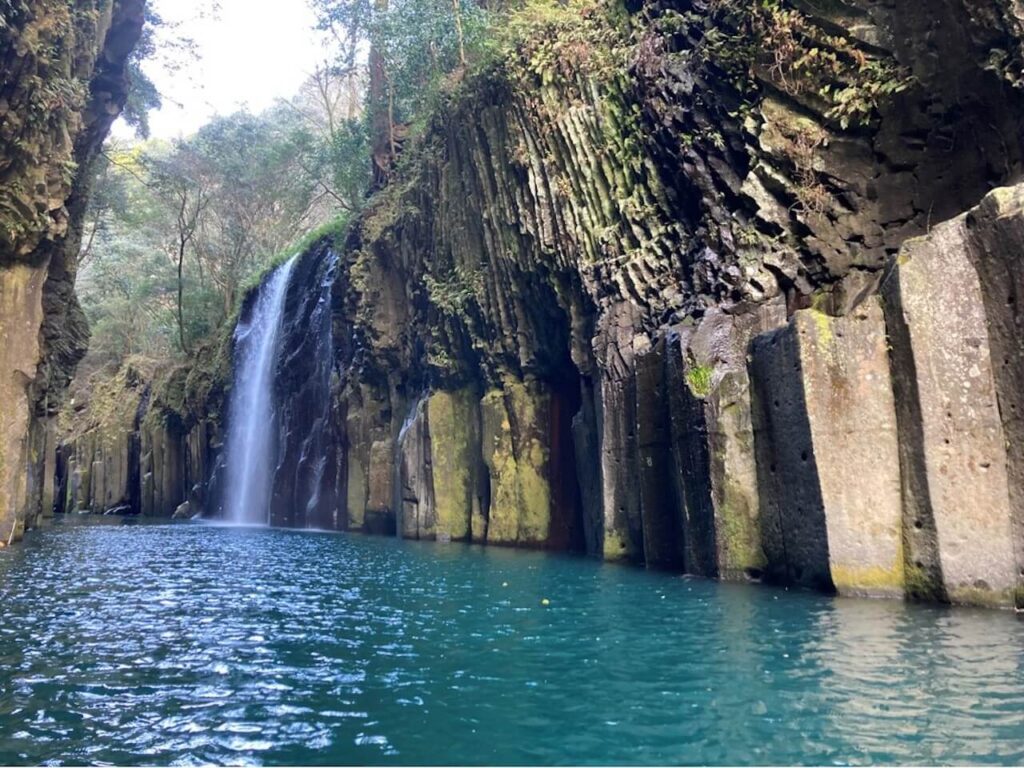 Making my way into the gorge proper, I was truly impressed by the grandeure and natural powers which formed this place. The huge walls of stone, a result of fast-cooling lava flows, rose up on both sides in unbelievably ordered columns. Near the middle of the stretch, a waterfall splashed down, sending a fine mist of spray over me as I paddled past.
My stomach was telling me it was time for lunch as I docked my boat and returned to the car so I made straight for the Takachiho Michi-no-Eki. If you've never heard of a Michi-no-Eki, it literally translates as Road Station. These are very popular amongst both Japanese and foreign travellers and can be found in towns all over the country. They are usually a great place to start if you are looking for local, produce and handicraft speciallities from the area. Many, like Takachiho's, incorporate a restaurant, and this is where I headed first.
I ordered one of the specials, miso and beef udon, along with a 'Takachiho beef' croquette. I was very pleased when my food arrived. The udon had a nice bite and the miso broth was rich, hair-fine strips of chilli added a subtle accent. And the croquette, wow! Perfectly crispy outside, lovely and creamy within.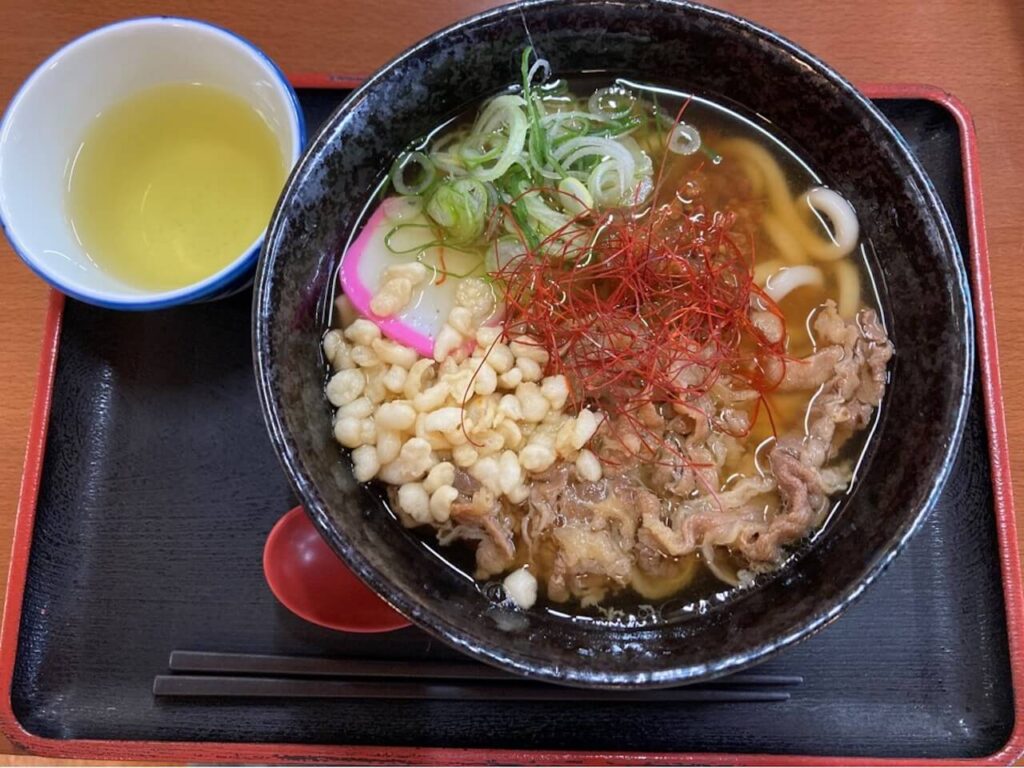 Exiting the restaurant, I had a look through the souvenir area which was packed with all manner of local and regional treats. I settled on some flavoured miso paste, nicely wrapped in bamboo skin, to give to a couple of friends on my return.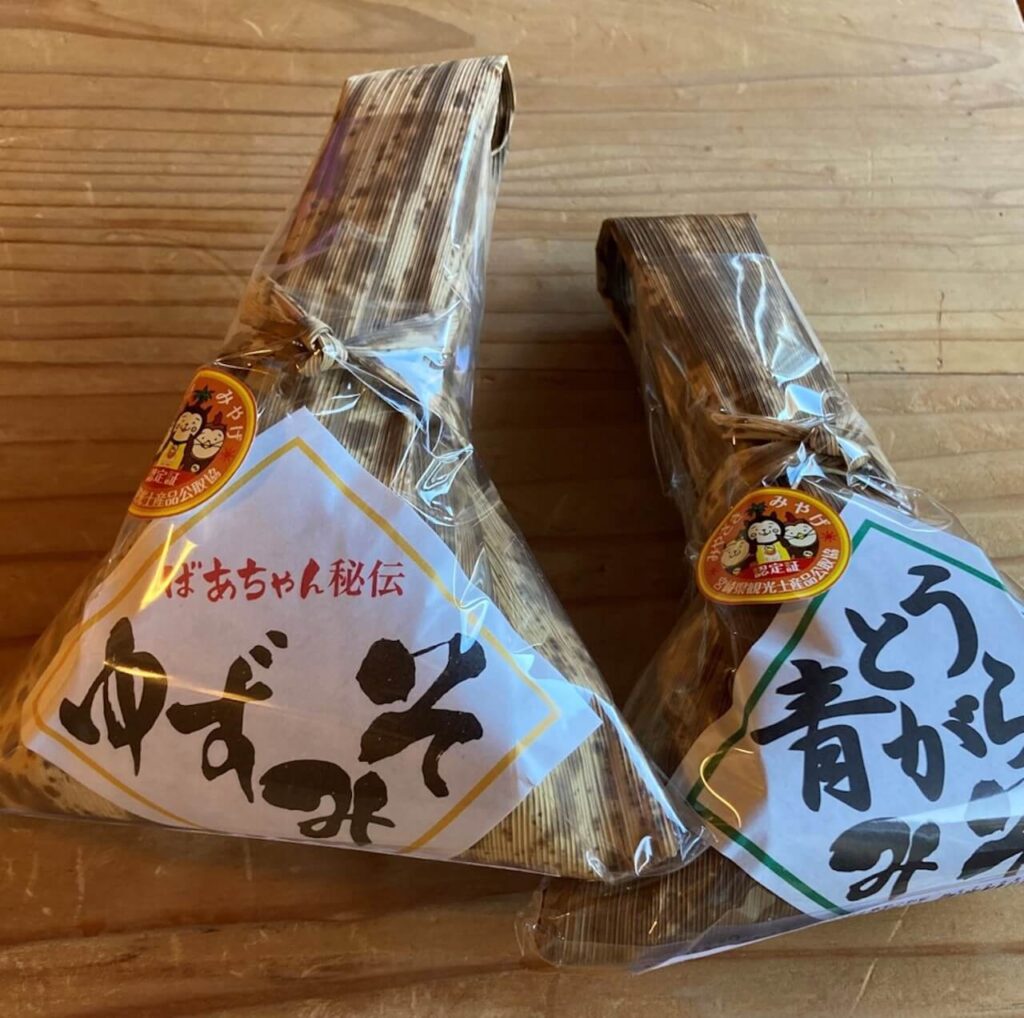 Next up, I wanted to visit the Amanoiwato Shrine, about 15 minutes' drive north-east. I had been wanting to go here for some time since it is said to be the setting of my favorite Shinto legends. The sun goddess, Ameterasu, hid herself away in a cave after her brother threw a dead animal into her weaving loom. The world was plunged into darkness. The other gods gathered in a nearby cave to discuss how to coax Ameterasu back out. A plan was made and their discussion turned into more of a party and when goddess of music jumped up on a drum and did a raunchy dance it caused such a commotion that Ameterasu peeked out. What she saw was her own reflection, cast by a mirror the other deities had hung there. She was so entranced; it allowed another god to force her out and seal the cave thus returning light to the world.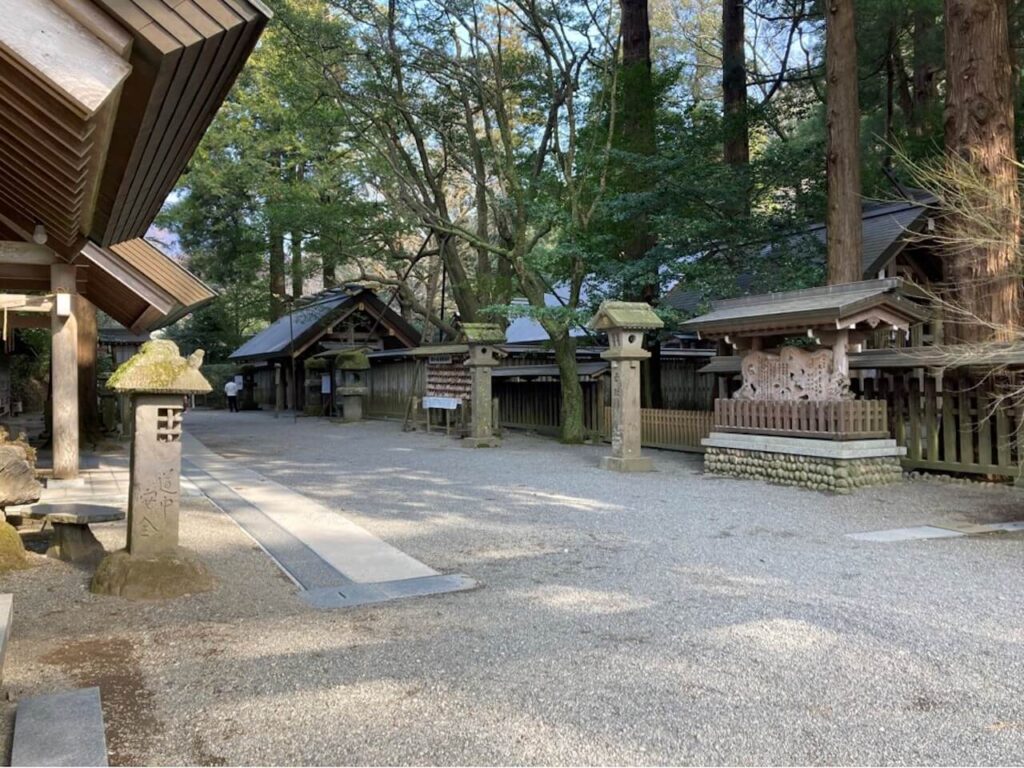 Inside the main shrine complex, you will find many images from this tale including images of the cave and mirrors standing on pedestals. The cave where Ameterasu hid lies across the river behind the shrine and you are not allowed to enter or approach it. However, if you walk through the shrine grounds and follow the road a couple of hundred meters you will come to a path which leads down to Amano-Yasukawara, the cave where the other deities gathered to form their plan.

It's a very nice walk down to the cave and, as you approach, you will start to see small piles of stones made by visitors. Within, and all around, the cave there are thousands of these piles which, along with the natural beauty of the place, create a really special atmosphere. If you like, you can do as I did, and used the stones from a collapsed pile to make your own.
After a leisurely stroll around, I stopped at one of the shops at the top of the path for an ice-cream, then continued back to the car and drove to my accommodation for the night. I would be staying at Maroudo Guest House (民宿まろうど), owned and run by Mr. and Mrs. Atsushi, located in the mountains about a 30-minute drive from central Takachiho. A friend had recommended the place after staying there and, after having stayed there myself I would happily pass on the recommendation.
Nestled on a peaceful, secluded mountainside, Maroudo is an unassuming place. I was warmly welcomed by Mr. Atsushi on arrival and he showed me to my room. One of a pair of rooms, with common lounge area, bathroom and laundry facilities, the space I learned had been converted about ten years ago from an old cow shed and silkworm rearing room. The walls were decorated with photographs of the Kagura performance, and Mr. Atsushi pointed one out to me. It showed him, perhaps a few years earlier, playing a flute to accompany the performance.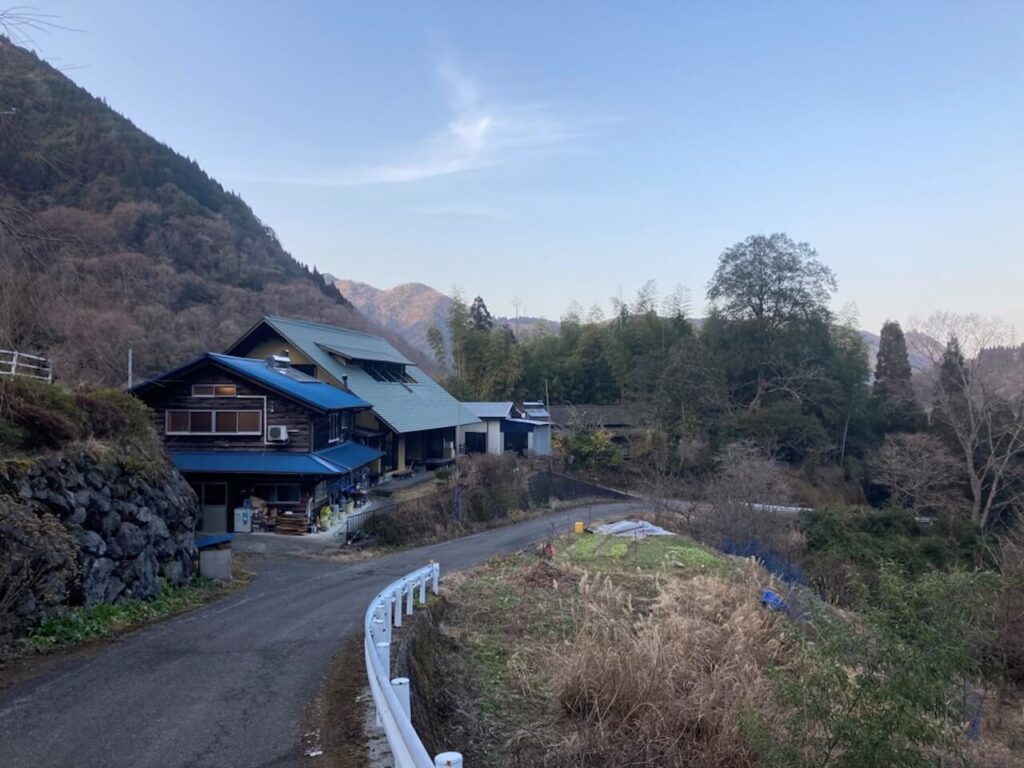 With plenty of time before dinner, I decided to go for a walk up the road. I very much enjoyed the crisp mountain air and the peaceful solitude. Not far along, I came across a huge tree, seemingly made up of dozens of smaller trees. I don't think I've ever seen one quite like it. On my return, Mr. Atsushi explained that the tree was also a shrine for him and other locals and that he often went there to make an offering or say a prayer. This made an impression on me. It is more in keeping with what I understand to be the original nature of Shintoism, where natural phenomenon like huge rocks, trees and mountains were the shrine and indeed the deity.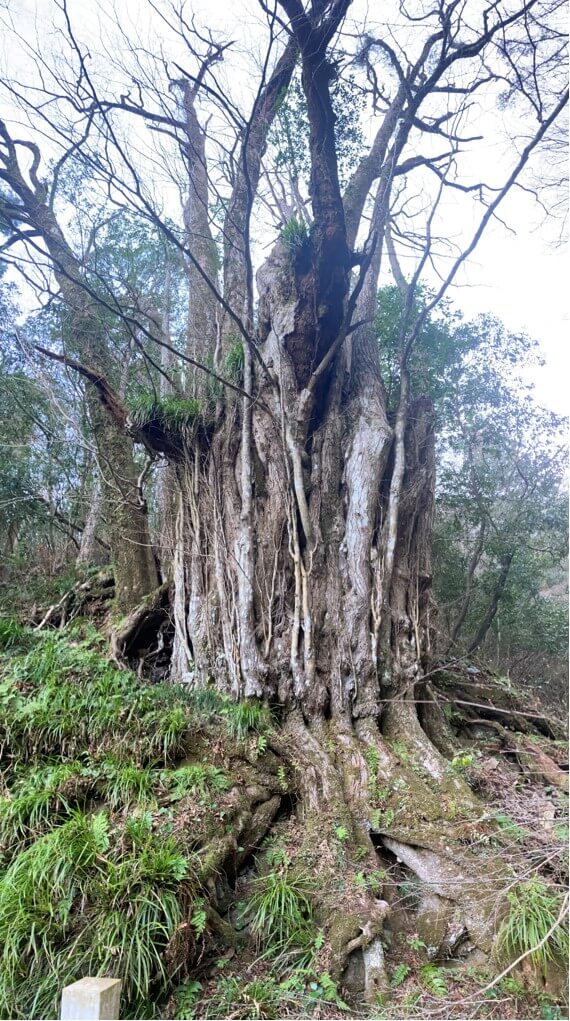 After a relaxing soak in the bath which had been prepared for me, I entered the main house and was shown to the dining room for dinner. In the foyer area outside the dining room, Mr. Atsushi, rather proudly, showed me a range of products on display which he, along with a team of locals had produced. There were a range of snacks made with rice bran, different flavored amazake, and even their own series of sake. I selected one of these to try with dinner.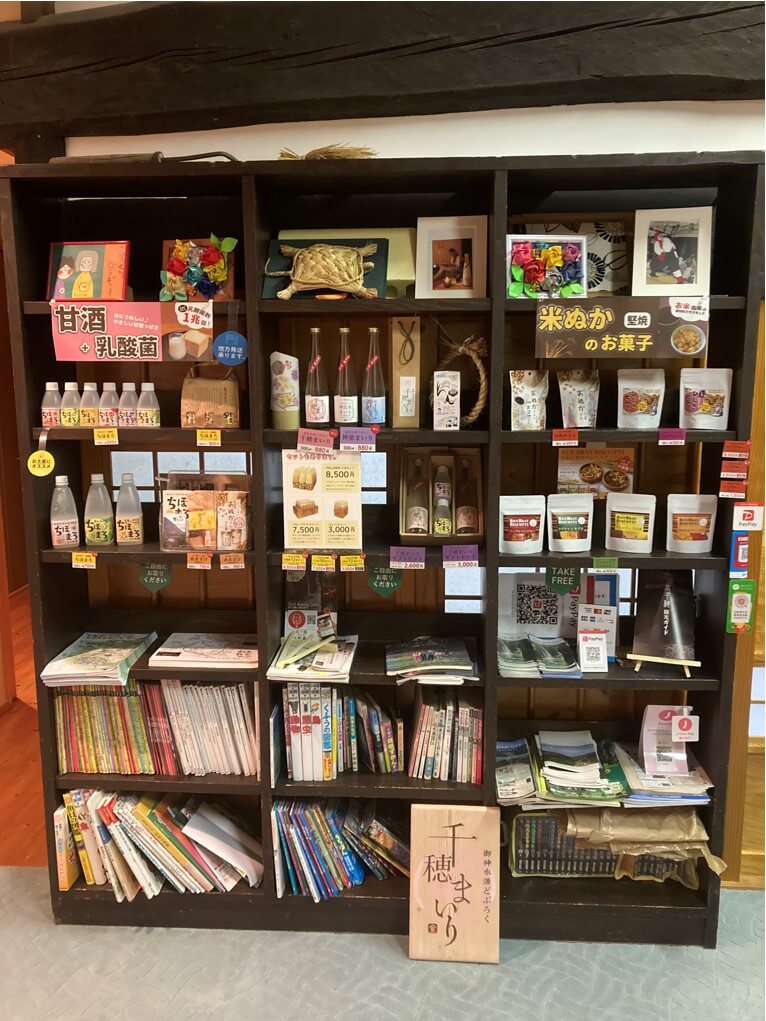 Sitting on a cushion on the tatami floor, I admired the traditionally appointed room. Soon, the food began to arrive and it was amazing. Citrus-soaked sashimi, prosciutto-wrapped, dried persimmons, trout l'orange, miso marinated beef and pork, the dishes kept coming and I couldn't stop eating. They were divine, and all prepared single-handedly by Mrs. Atsushi. I was highly impressed and made sure to express my gratitude to her after the meal. The sake was delicious too. An unfiltered variety, not overly sweet, it went very well as an accompaniment to the meal. When I left the table, I noticed that somehow the bottle was empty!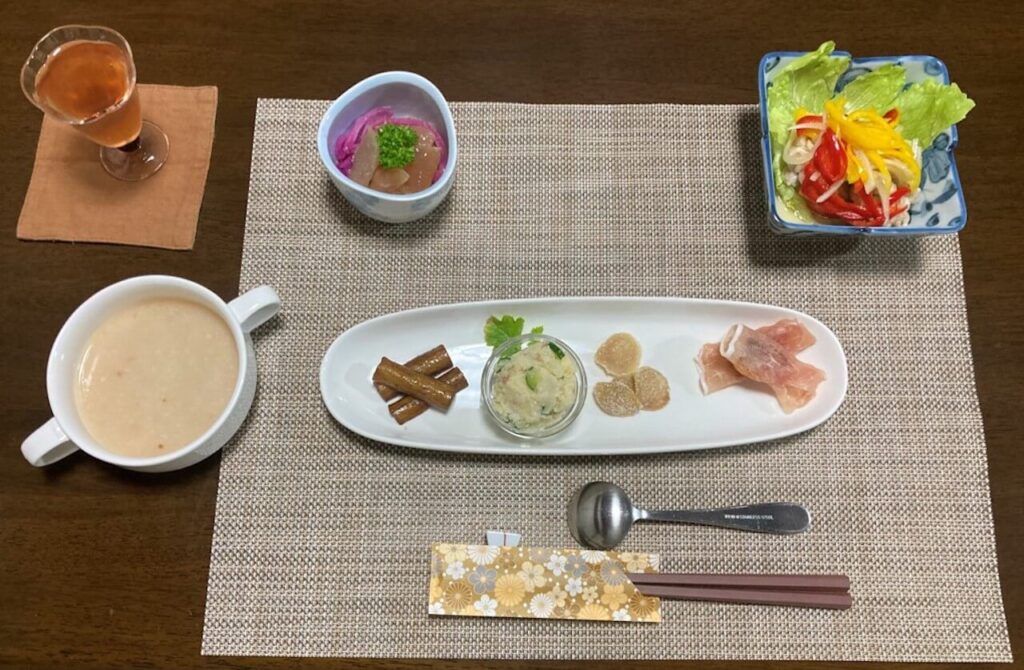 I slept very soundly, and awoke the next morning feeling rested and ready for some more exploring. Mr. Atsushi had kindly offered to show me around a couple of the local sites the night before so, after enjoying another elaborate meal for breakfast and purchasing a few of the rice-bran snacks and a couple of bottles of sake, we went for a drive.
After a short journey, we arrived at a local Shinto shrine. Here, half-a-dozen cars were parked and I assumed that Mr. Atsushi had arranged for some of his friends to meet there. But this wasn't the case, people were leaving as we arrived and others were up at the shrine. The telltale torii gate led to a flight of stone stairs. We climbed these and arrived in a clearing, nestled between two huge rocky peaks. In the center of the clearing was the shrine and off to one side, a small roof covered a stream of water coming from the stone hillside. A couple who had arrived before us were filling bottles with the water.
When they had left, I tasted the water myself. It was incredibly clear and fresh. I was informed that the water was almost completely free of any minerals or impurities, having passed through the hard stone of the mountain. I filled my own bottle for the drive home.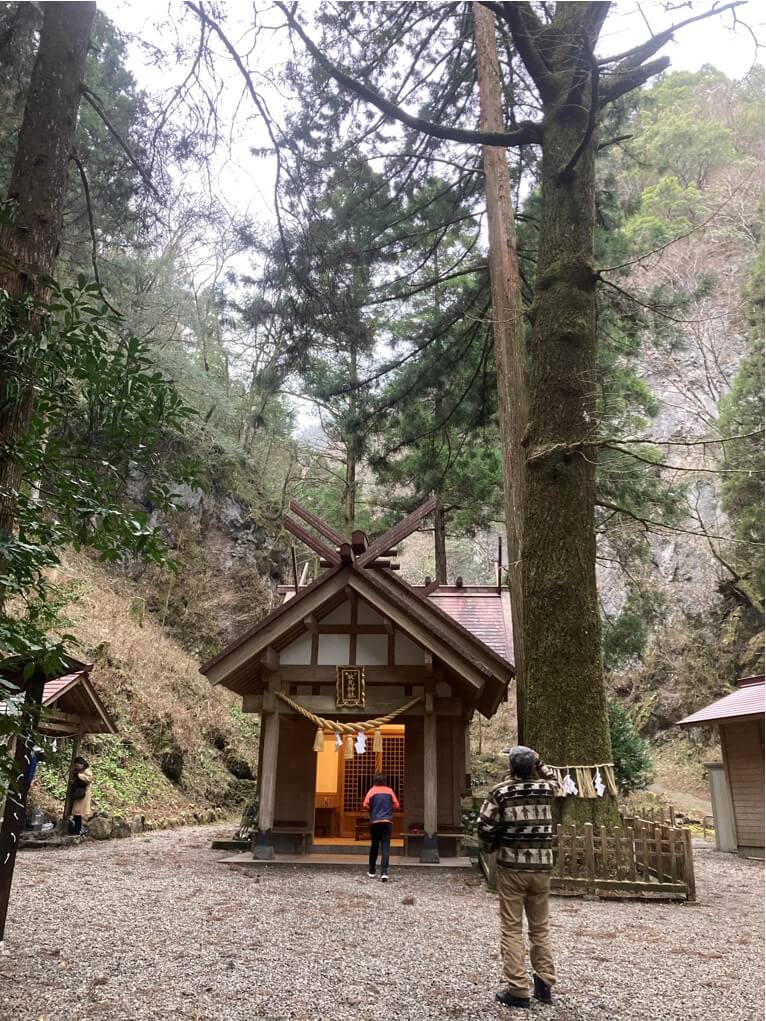 We went on to our next stop and pulled up in front of another torii gate. But this one led me to a bit of a surprise. Passing through the gate, I walked a few steps and stopped. There was no building with curving roof, no offering box. Instead, there before me I found a waterfall, splashing into a clear pool. This was the shrine, how wonderful. The only clue, other than the torii gate, was a small stone structure which housed two carved, stone figures, looking at the waterfall.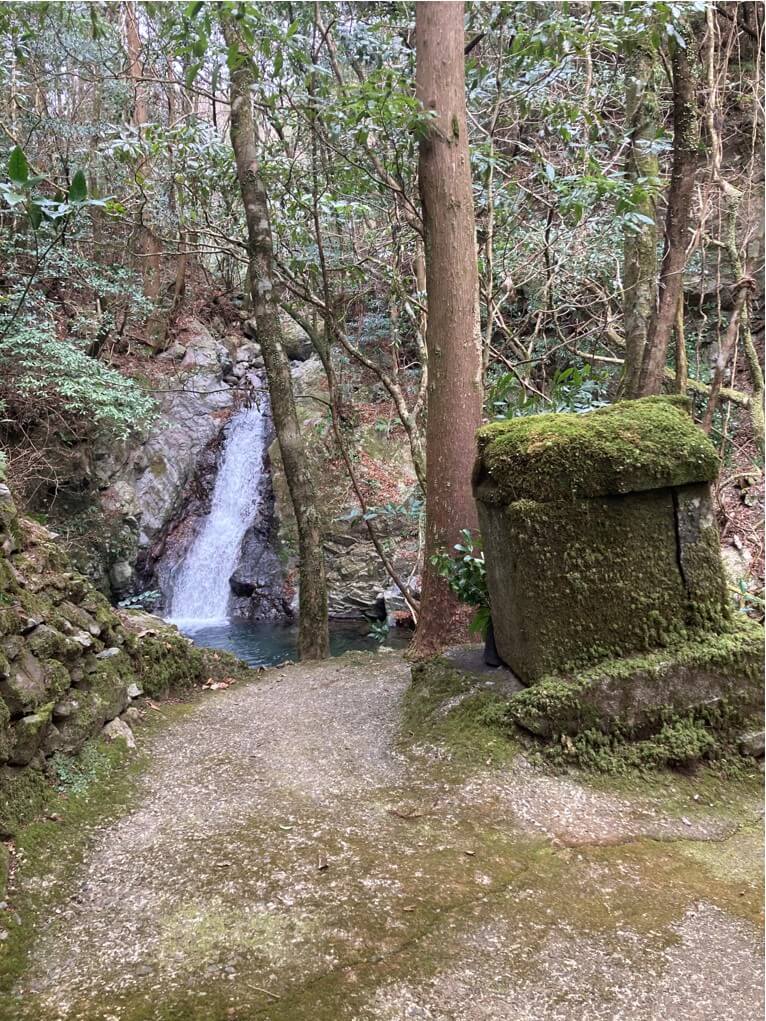 It was time to say our farewells to Mr. Atsushi with a heartfelt promise to return. I had one more stop in Takachiho before heading for home. I drove back into town and pulled up in the carpark of Takachiho Shrine. I passed under the massive, metal-clad torii, a significantly grander affair than those I had seen in the morning. Purifying myself at the chōzu-ya, I ascended the large, stone stairs to the main shrine grounds.

Like Amanoiwato, there were several shrine buildings but what stood out even more to me were the massive trees, towering over the clearing. Visitors were praying at the shrine, but many also performed their o-maeri at the food of cedars which must have been hundreds of years old.
I decided to do both and then bought an Omamori, an amulet sold by the priests and priestesses of the shrine. I have a growing collection of these from my travels. Dedicated to various deities, they are said to provide different types of protection or good fortune. Weather or not you believe this, they make a beautiful memento and, as a friend once said to me, buying them helps to support the preservation of these special places for future generations to enjoy.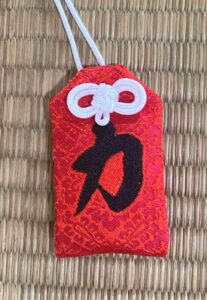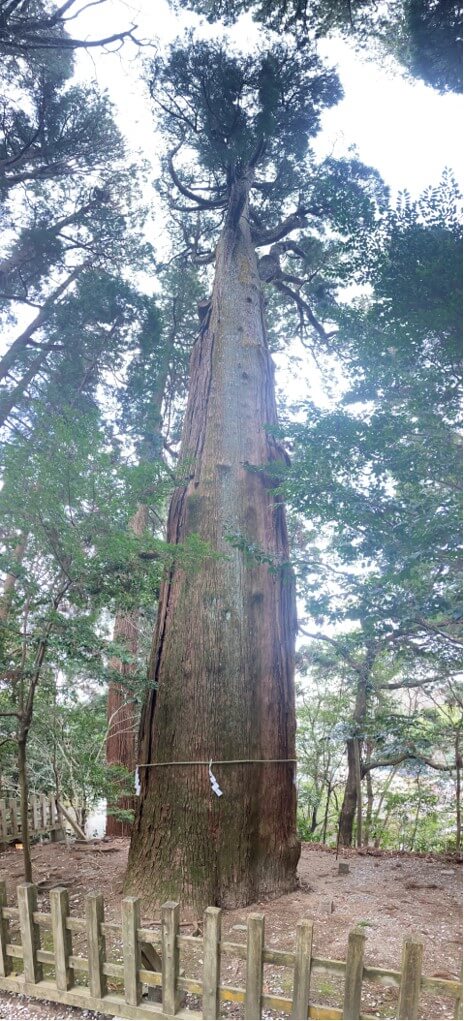 So, with a bit of extra protection for my return journey, I bid farewell to Takachiho and headed back toward Usuki. It was time for lunch and I knew just the place to stop so I pulled off the Naka Kyushu Expressway at the Ono IC. A friend had taken me here when we were working in the area and I was keen to return. Just to one side of the Ono Michi-no-Eki stands a rather unassuming little takeaway bento shop called Yamitsuki Karaage. Making my selection from the ticket machine, I only had to wait a couple of minutes before my order of shio karaage (salty fried chicken) was ready. Now, I enjoy my fried chicken and have tried it all over the place and I think this is the best I have eaten. I know, big call, but you'll just have to take my word for it until you try it for yourself.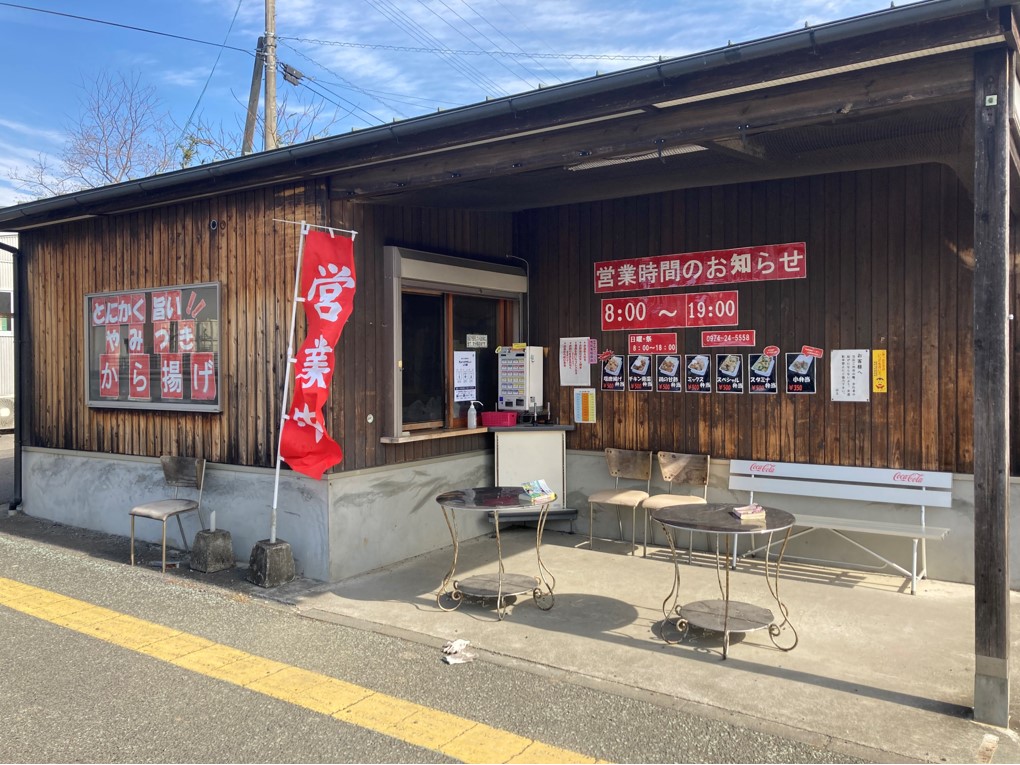 It had been a memorable trip to Takachiho, a place where the beauty and raw power of nature fit seamlessly with ideas of heavenly powers and legendary tales. I urge you to make the journey for yourself, and Usuki makes for an ideal base as you discover this and many other amazing places in the area.
Prices at a glance
(Prices given in Japanese yen as at January 2021)
Takachiho Gorge
Car parking 500
Boat hire- 3,000 per boat plus 1,000/adult 500/child
Takachiho Michi-no-Eki
Miso Beef Udon 700
Takachiho Beef Croquette 170
Maroudo Gust House
11,000 per adult per night. Includes dinner and breakfast.
Child 5,500.
Local 'Doburoku' sake 1,200/bottle.
Takachiho Shrine
Omamori 500
Yamitsuki Karaage
Shio Karaage Bento 500
A tour of "Usuki" from town to town